Commercial due diligence is an essential step to reduce private equity deal risk and confirm up-side potential.  This work is undertaken by commercially experienced independent consultants. Reporting covers market size and growth, client feedback on the firm's proposition, delivery and talent, security of the forward order book, and opportunities for innovation.
In addition to supporting a go: no go decision for a private equity acquisition, commercial due diligence provides a blueprint for post-deal business development through sales, marketing, and innovation. Often the target business will be lacking in sales and marketing capability and the consultancy can provide hands on support and coaching.
Here are 5 big wins from private equity commercial due diligence:
1. Growth Potential
Management will present a strong forward revenue projection and you are looking for rapid EBITDA growth, but how can you verify the potential? This is rarely about overall market size and growth as the target business is likely to be exploiting market niches.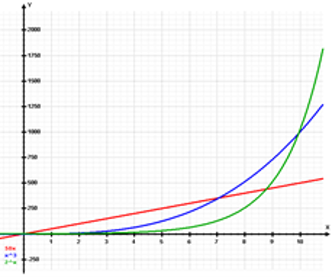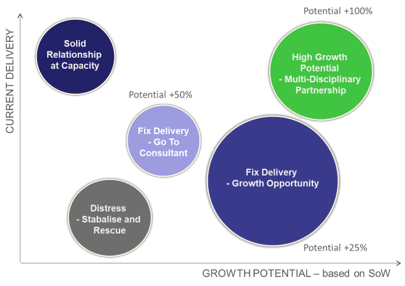 With the impact of Covid-19 and Brexit businesses face rapidly evolving discontinuities which increase both risk and opportunity. The past is no longer a safe predictor of future performance.
Experienced individual interviews with senior client decision makers develop a clear picture of the future reality. Buyers will confirm the projected order book and up-side potential including organic growth, innovation, add-on acquisition and geographic expansion.
2. Current Performance
Young businesses are often light on depth of talent and processes, whatever their technical strengths. These weaknesses are likely to impede future growth. As businesses seek to grow and take on more significant contracts with major players capabilities must be enhanced. Understanding the specific issues helps private equity make informed decisions and provide focused support.

Buyers will have a detailed view of performance against the key capability areas that they value. Exploring this by account identifies key strengths and weaknesses and informs our assessment of the Customer Value Proposition. Some capabilities such as safety may be table stakes, but others such as the ability to form strategic partnerships and sustainability are value creating and defensible. Often core capabilities that impact customer perception are not fully visible to leadership such as utilising project management to avoid over-stretch and ensure on-time customer delivery.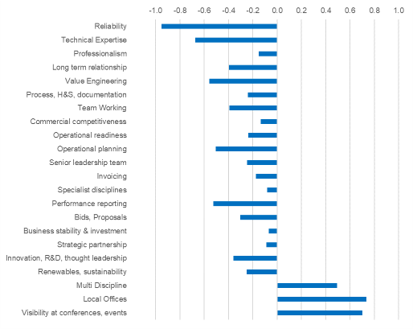 3. Customer Value Proposition
Ensuring clarity to the Customer Value Proposition is an essential element of commercial due diligence to ensure future focus and success under Private Equity ownership. The Customer Value Proposition defines the reasons why customers buy and the trade-offs they make in terms of effort and cost.
Critically this equation is determined by the customer in comparison with competitors and must be explored directly with buyers and potentially developed through direct partnership. Growth businesses need clear strategy, and the Customer Value Proposition provides laser focus to sales, marketing, and innovation.
4. Talent
Growth businesses often have high performing leadership and support teams but lack depth and resilience. As the business grows under private equity, leadership becomes increasingly stretched as their role changes from hands-on to strategy. Key client decision makers may feel they have less access to the principals, key technical staff are stretched thin and the lack of formal processes increases risk of visible failure.   
Identifying and retaining key staff, supporting, and coaching leadership and building robust scalable processes such as HR, compliance and sales management become critical for sustainable growth.
Ultimately the culture of the organisation will change and must retain the positive features of a small business while squaring up to do business with corporate clients as equals.
Interviews with customers and employees enables an assessment of talent and culture and recommendations for action. Here is an example from a client interview:

5. Blueprint for Growth
Combining the assessment of current performance with future potential enables the consultancy to provide the private equity and management team with a clear blueprint of action steps. Following the blueprint post-deal means the business can hit the deck running to build growth and value, improve sales processes, customer experience and innovation.
Project planning this transformation with clear milestones and KPIs ensures that management and the board can monitor the development of capability and the resultant growth in performance. 
Commercial due diligence gives private equity confidence in proceeding with the acquisition. The management team gain an astute and pragmatic blueprint for development of the business.
About BeyondCuriosity
BeyondCuriosity is experienced at undertaking customer and employee reviews for Private Equity backers of mid-cap businesses and VC funded start-ups. We operate quickly and cost efficiently with appropriate discretion both pre-deal as part of commercial due diligence, and post-deal when issues emerge with sales and marketing effectiveness, affecting planned growth and value creation.
We are a small business, so you deal directly with the principals who do the work. Because we are pragmatic and down to earth with real-life experience of running businesses we are empathetic with management and this ensures our recommendations are accepted and acted upon.
We bring a pragmatic approach based on strong thought leadership and commercial experience. Our reports are clear, and action orientated and if required we can provide hands-on support and coaching in customer strategy, innovation, sales, and marketing.  
About the Author
Chris Little is a leading practitioner of deep insight, customer centricity and innovation co-creation. Chris brings the voice of the customer directly into organisational strategy and marketing programmes. He works extensively with mid-cap and start-up businesses and their funders to develop sustainable growth and strengthen their sales and marketing capability.
Before founding BeyondCuriosity Chris held senior positions in marketing and strategy for major corporates and was COO of a financial services digital start-up.
Chris writes and blogs on insight, innovation and business strategy and is recognised as a customer experience thought leader.
BeyondCuriosity is a specialist customer strategy consultancy for private equity, innovation, and growth
To learn more call Chris Little 07957686366 chris@beyondcuriosity.com